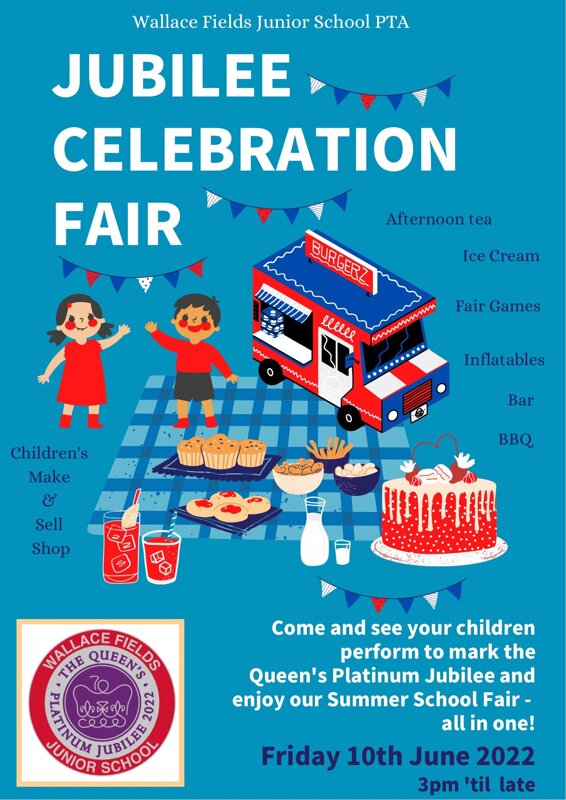 Celebrate your children and the Queens Jubilee on Friday 10th June at the Wallace Fields Junior school summer soirée
HERE'S WHAT YOU NEED TO KNOW!
At 3.15pm all year groups will be singing under the willow tree so you may like to book the afternoon off work.
Young siblings at Wallace Fields Infant School can be collected early at 3.05pm and can exit WFIS via the field to enter WFJS by the alley.
Performances will go on until approximately 3.45pm when the children will be dismissed by their class teacher and then all families can attend the fair together.
Children in Year 5 & 6 who are allowed to walk home alone will be permitted to stay on at the fair unless we are informed otherwise by an email from a parent/carer.
Bring your picnic rug, picnic glasses and choose your perfect spot. Relax with a glass of Pimms or treat yourself to a cream tea whilst the children enjoy all the fun of the fair.
A fabulous BBQ will be serving up burgers and hot dogs, and an ice cream van will be onsite keeping everyone cool, and a delicious selection of cakes and treats will be served along with a fully stocked bar and cafe.
Wallace Fields Junior School is proud to be celebrating such a wonderful event and we look forward to welcoming everyone to join us.
For any questions regarding the fair, the offer of volunteering or donating - please contact the PTA jadetombs@yahoo.co.uk

WALLACE FIELDS JUNIORS NEEDS YOU!
Remember without your help and support these super events can't happen! Please click here to sign to help.

CONTRIBUTIONS NEEDED FOR THE FAIR
We need the following contributions in the week leading up to the fair:
Sweet donations from Tuesday 7th June.
Mufti and Bottle donations on Thursday 9th June.
Cake donations on Friday 10th June.

DOES YOUR CHILD HAVE A TALENT FOR ART OR CRAFTING?
If so the school along with the PTA would like to encourage any child to host a 'make and sell' table at the forthcoming celebration fair. Each table costs £10 but can be split between children if required, and all monies made are the child's own to keep. We would love to encourage their talent and their young entrepreneurial skills. If this is something your child is interested in please contact the PTA directly jadetombs@yahoo.co.uk to secure a table.