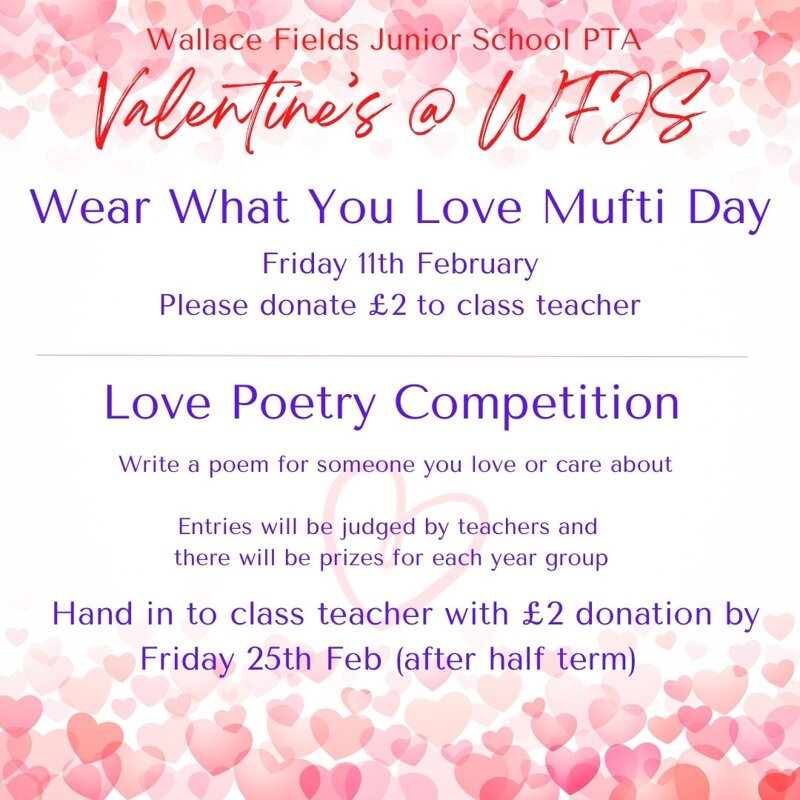 We are excited to launch today some exciting ways we are celebrating Valentines day at Wallace Fields Junior School and helping raise much needed funds for the school.
"WEAR WHAT YOU LOVE DAY" MUFTI DAY – FRIDAY 11th FEBRUARY 2022
On the last day of term, all children can wear what they love into school for a £2 cash donation to the PTA.
VALENTINE'S DAY POETRY COMPETITON – OVER HALF TERM
Please encourage your children to write a valentines poem over half term. They can bring their poem and £2 cash entry into school after half term. The best poem in each year group will win a prize. Entries must be in by 25th February 2022.
If your child doesn't want to take part in these events but you still would like to donate. There are many ways to donate funds to the school. You can donate online with gift aid, to the PTA please click here. Donating via this route enables us to claim back Gift Aid on donations which is an extra 25p for every £1 donated. Your donations help us provide the little extras that make the children's experiences in school so incredible- making learning more creative and fun, which the school budget simply doesn't have the scope to pay for.
For more ways to help the PTA or donate please click here to go to our PTA page.